Circle C is set on Doing it right!
We grow top water oysters that thin out the murk at the surface letting light penetrate further into the water. This creates conditions for plants to grow deeper in the water.
Why is that so important?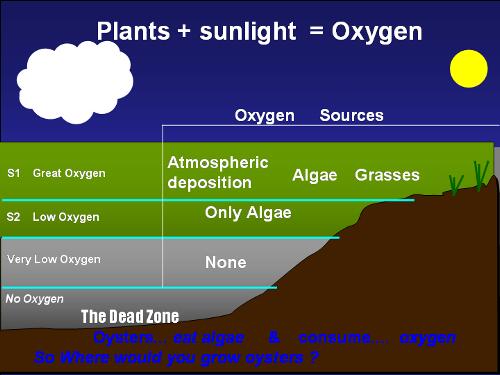 Oyster planted on or near the bottom in cages deplete oxygen and consume algae. Algae is the only oxygen producer down in the gloom where little light penetrates. Once the oxygen is gone from the water, in comes the tide and sloshes this poisonous water over other areas suffocating the animals that live there.
After the tide recedes, bacteria starts consuming the dead animals and bacteria uses a lot of oxygen! Then, of course, the tide comes in and carries the bad water along with it to other areas to kill more animals.
And as if that was not enough....
Water without oxygen becomes slightly acid, like vinegar. This acid dissolves plant nutrients found in the sediment. These nutrients then move closer to the surface with each tide until they mix with surface water and BAM! . . . Red tide!